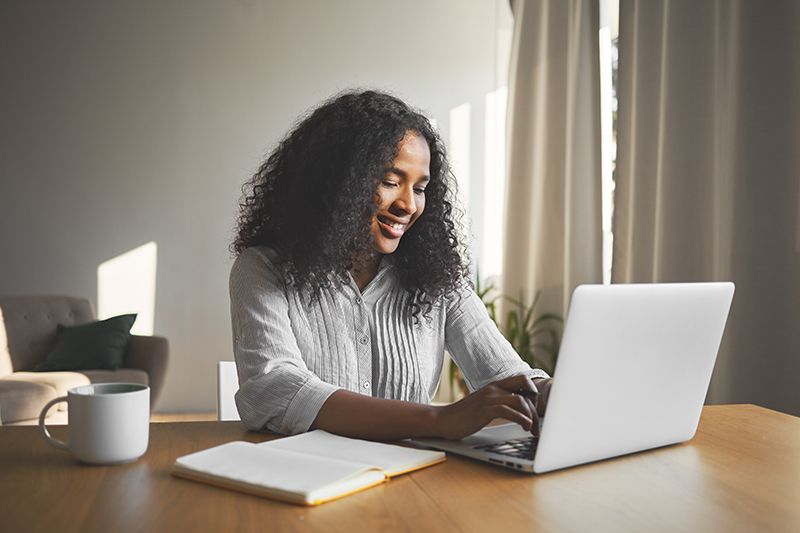 What to Tell Your Remote Workers Their First Day on the Job
There are many reasons to hire remote workers. Perhaps you want to cut down on overhead expenses like rent and electricity. Maybe you're interested in attracting talent from many regions as we do here at Workling. It's possible that your employees prefer to work from home. Or it could be that, during the COVID-19 pandemic, you've found that your team can be more productive in a remote work setting.
Certainly, the social distancing requirements of the pandemic have normalized remote work. A Zoom meeting in place of an in-person meeting that involves one party flying to another's location no longer seems insufficient. Pinging someone rather than stopping by their desk is par for the course. And the sound of family members or pets in the background on phone calls is barely even noticed.
Yet, new remote employees may not have worked remotely before. And, even if they have, they may not be familiar with your practices and procedures. It's important to help them understand how, when, and with whom they will be working, just as you would with those working together in a physical location. Here are a few things that are important to tell them as soon as possible, ideally on the first day on the job.
How to Get Set up at Home
This topic is one of the first you should discuss with a new remote employee. If they are required to use a company computer, send it in advance with instructions or the ability to talk with someone to walk them through the setup. Let them know of other equipment they might need, including a printer, external hard drives, and a video camera and/or microphone. Make sure they have ready access to or can easily create login credentials for primary applications.
Will you be sending them furniture, such as a desk, chair, filing cabinet, or bookshelf, or do you expect them to get these items for themselves? If the latter, will you be reimbursing them for these costs? If so, tell them exactly how to track and submit their expenses. Make this action one of the first you show them, as you want them to be set up and productive as soon as possible, and not distracted by making purchases they might not be able to afford.
If there is an IT specialist who can help them with technology issues, be sure they know how to reach that person or team. This information will be especially important as they try to make various components of their setup work together. It will also come in handy as they get started with applications they may not have previously used.
The following video describes the ideal physical setup for a home work environment:
What Training Will Look Like
Let your new hire know what to expect in terms of training. Maybe your company has a bank of videos they need to watch. Perhaps you'll spend time with them each day going through procedures. It could be that there are different people who will show them how to perform various tasks. Whatever the situation is, let them know so they can plan their time accordingly.
Some specific areas you might focus on include their primary and secondary duties, HR information such as their benefits, and IT matters including cybersecurity. Point them to any standard operating procedures (SOPs) your company might have developed.
Who to Call with Questions
As you begin the setup and training process, your new employees are likely to have questions along the way. Be sure to give them a list of who to call with questions regarding IT, HR, and various parts of their day-to-day work. Make it clear there are no stupid questions, and you'd rather have them ask than be stuck on an issue that interferes with their productivity. You might even consider assigning them an office "buddy" who they can go to first with questions.
Office Hours and Other Expectations
Clearly define what you expect of your new employee in the following areas:
Availability. What hours should they be at their desk? And how should they alert coworkers of their availability?
Performance. What exactly is the work they should accomplish? Be specific, using numbers whenever possible (such as 5 reports per month or 20 sales calls per week).
Check-ins. Will you check in with the team member about their progress or do you want them to proactively check in with you? If so, what is the best way for them to do so?
Security. Physical security and cybersecurity are highly important at any job, especially a remote one. Indicate the security steps you need them to take and consider having them sign a form stating they will do so.
Confidentiality. In many industries (finance and healthcare, for example), confidentiality is highly important. Make clear the steps the new worker must take to maintain it.
Working style. Things like punctuality are more important in some workplaces than in others. Talk about the culture and what types of things can help make others' jobs easier.
Use of Communication Tools
If communication tools are important in a physical workplace, they are 100 times more so in a remote one because, there, they are the only way you can contact others. Familiarize your new employee with the communication tools your company and team use. If needed, have them complete training for each one.
Especially important is helping them understand which tool to use in different situations. For example, perhaps you use Slack for informal conversations only, not to exchange files or for scheduled meetings. Maybe you use an enterprise management system to collaborate on documents. And, like so many other companies, maybe you use Zoom for group sessions. Your new worker will get the hang of it soon enough but give them a high-level explanation upfront.
Make a Good First Impression
The first day or week of a new position can be confusing, so consider spreading out the information so as not to overload your new employee. And remember, good workers are hard to find, so prepare in advance so you can make a good first impression that can form the basis of a great working relationship.